Learning Spanish has never been so much fun! Kids in our Elementary School Spanish Enrichment Program learn Spanish through interactive games, storytelling, and songs. Our curriculum incorporates auditory, visual, and kinesthetic learning styles. Our teachers are highly trained and experienced Spanish speakers from all over the world. They teach with excitement and creativity, and bring their native cultures into the classroom.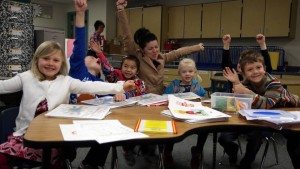 Currently, we offer our before and after-school Spanish enrichment program in 3 school districts that include 30 schools across the front range.  We boast over 30 teachers that bring Spanish to Boulder Valley School District, Denver Public Schools, and Jefferson County schools in multiple cities and surrounding towns including Boulder, Louisville, Superior, Lafayette, Broomfield, Longmont, Nederland, Golden, Denver, and Littleton. For more information on specific schools, please visit our "current elementary schools" page.
If you do not see your school listed, contact us at 303-350-5533 – We would love to bring Spanish enrichment to your children!
Click the book covers below to see a preview of our curriculum!
Preview
Content

Primeros Pasos: Español 1A + 1B

 This level is generally for Kindergarten – first grade students and focuses on building vocabulary and using critical thinking to make comparisons, contrasts, and be able to analyze simple and complex ideas..

Level 1 of the program covers:

Greetings and introductions
The alphabet
Family
School
Numbers
Colors and Food Items
Shapes and Sizes
Animals
Parts of the Body
Professions

 

Primeros Pasos: Español 2A & B

 This level is generally for second – fifth grade students and covers more grammar, as well as sentence structure and composition.

Level 2 of the program covers:

Greetings and introductions
The alphabet
Spelling and gender of words
Time and numbers
Colors and clothing
The weather
Parts of the Body
Animals
Shapes and Sizes
Family and Home
School
Professions

 

Primeros Pasos: Español 3A

This level is generally for second – fifth grade students. All grammar, sentence structure and composition skills will be discussed under the subject of traveling.  No former Spanish experience is necessary, but it's a plus.

Level 3A of the program covers:

Objects to bring on a trip
Family
Greetings
 Meals
Hobbies
Means of transportation
Places in the city

 

La Salud y Yo: Español 3B

 This level is generally for second – fifth grade students.

Level 3 of the program covers:

Regular verbs and conjugations
Reflexive verbs and reflexive pronouns
Days of the week
Time
Numbers
The verbs "sentirse" and "estar"
Sports and healthy activities
Latin American food and sports
Vocabulary to cover daily routines, sports and nutrition

 

 Español 4A

 This level is generally for second – fifth grade students.

Level 3 of the program covers:

Nationalities
Geographic features
Biomes
The weather
Recycling
Animals in danger of extinction